Joy at work
Do what matters and have a lot of fun. Let's build teams around motivated individuals. This document is a collection of quotes about joy at work. People care more about their work if they enjoy it and have a sense of ownership. To enjoy what you do is not only good for yourself, it's also affects the people around you. Happy employees = Happy customers = A successful company.
Download PDF: Joy at work
Download PDF: Glädje på jobbet (Svenska)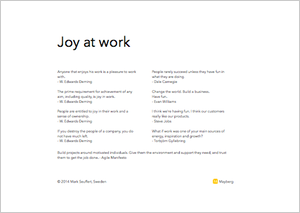 Background: Motivation and productivity cannot be added from the outside, cannot come from reward and punishment. They come from intrinsic motivation, when you are proud of what you do and enjoy it.